Costs and options for a multi-page web site at your own domain (www.yourname.com).



For a $1500 One-time production fee, this plan includes:
Custom Interface Design, HTML/CSS/JavaScript coding, logo design (if needed), photo/art scanning and retouching, basic metatag keyword programming and e-mail setup for three to five pages of text and images. Please see Web Site Add-On Items for additional options like forms, animation, audio or video, database programming, or e-commerce.

---
Typically "basic" web sites include a Home Page, an About Page, Contact Info (maybe with a maps or directions), a List of Services, Photos, Links, Coupons, etc.


Add-On Items could include an online form, audio clips, e-commerce, additional pages or more. Additional basic pages are $225 each.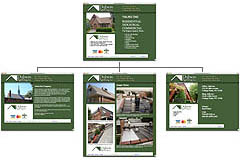 When you contract with Creative.io for at least a Basic Web Site Design plan and two (2) years of web site hosting, you will receive a FREE brand new 4GB Apple iPod nano in silver, blue, pink or green. You will receive your iPod once the design and hosting fees are paid in full.



Note: Creative.io can design your web site without providing the site hosting. However, to qualify for the Free iPod nano offer you must contract for the site design and Creative.io hosting at the same time.